Below, you'll find a few examples of caviar-producing countries. The list is by no means complete.
Azerbaijan

Bulgaria

Canada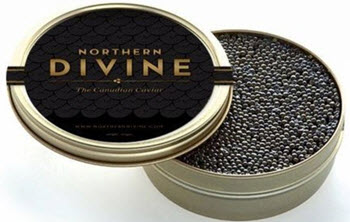 Canada was, together with the United States, the major exporter of caviar to Europe in the early 1900s. Today, the production is much smaller.
The most famous of the Canadian caviar producers is arguably the Target Marine Hatcheries, since this sturgeon farm was the first producer of organic caviar ("Northern Divine") in North America.
At the time of writing, China accounts for roughly 60% of the world's caviar production. The largest Chinese caviar brand is Kaluga Queen, which derives their caviar from sturgeon cultivated in pens in the man-made lake Qiandao in the Zhejiang Province. The lake was created in the late 1950s for the Xin'an River hydroelectric project. Kaluga Queen raises five different species of sturgeon in the lake to provide the market with five different caviar varieties.
Iranian caviar is highly sought after internationally. Bandar Torkaman, a port city on the Caspian Sea in northern Iran, is an important hub for the nation's caviar production.
Until the early 1970s, wild sturgeons were common in the Po river. Today, sturgeons only sporadically appear here. Instead, Italian caviar is almost entirely harvested from captive-bred sturgeons. The main caviar-producing region is the Brescia area at the foot of the Alps. At the time of writing, one of the nation's largest caviar producers is found in the commune Calvisano.
One of the most notable producers of caviar in Israel is the Kibbutz Dan, where approximately 4 tons of caviar is harvested each year. This kibbutz uses water from the Dan River, which is a tributary to the famous Jordan River.
Kazakhstan

Montenegro

Romania

Russia

Saudi Arabia
Saudi Arabia is a newcomer on the caviar market. Caviar Court was established in Dammam in 2001 and the first harvest of caviar took place in 2007. Now, the output exceeds five tons per year, and another facility has been built in Abu Dhabi.
Turkmenistan

Ukraine

United Kingdom

United States
In the early 20th century, the United States and Canada were the major exporters of caviar to Europe. In the US, roe was harvested from Lake sturgeons in the Midwest and from Shortnose sturgeons and Atlantic sturgeons in rivers emptying into the Atlantic.
Today, the Lake sturgeon and the Shortnose sturgeon are both listed as Vulnerable on the IUCN 3.1 Red List. The Atlantic sturgeon populations are in better shape, but still listed as Near Threatened. This situation has decreased the U.S. Caviar production dramatically, and also increased market demands for sustainable farmed or harvested caviar.
Of the caviar still produced within the United States, approximately 75% comes from California.